About JAC
About JAC
Japan Academic Association For Copyright Clearance (JAC) is a management business operator registered by Agency for Cultural Affairs under the Copyright Law of Japan (Registration Number 02004).
We manage and administer intellectual property and deal with copyrights on behalf of academic Organizations. We work as Collective Management Organizations acting in the interest and on behalf of the owners of rights.
We are member of International Federation of Reproduction Rights Organizations (IFRRO), and we have bilateral agreements with countries around the world which means content users can copy from publications published in 33 international territories.
JAC's mission is to contribute to the development of academic societies by making it easy for our users to get and use content worldwide as obtaining permission to use copyrighted works is complicated, while protecting the legitimate interests of rightsholders.
We mainly represent the rightsholders' reproduction rights in academic related works and grant licenses. Our licensing revenue is distributed to rightsholders we represent after deduction of predetermined administration fees.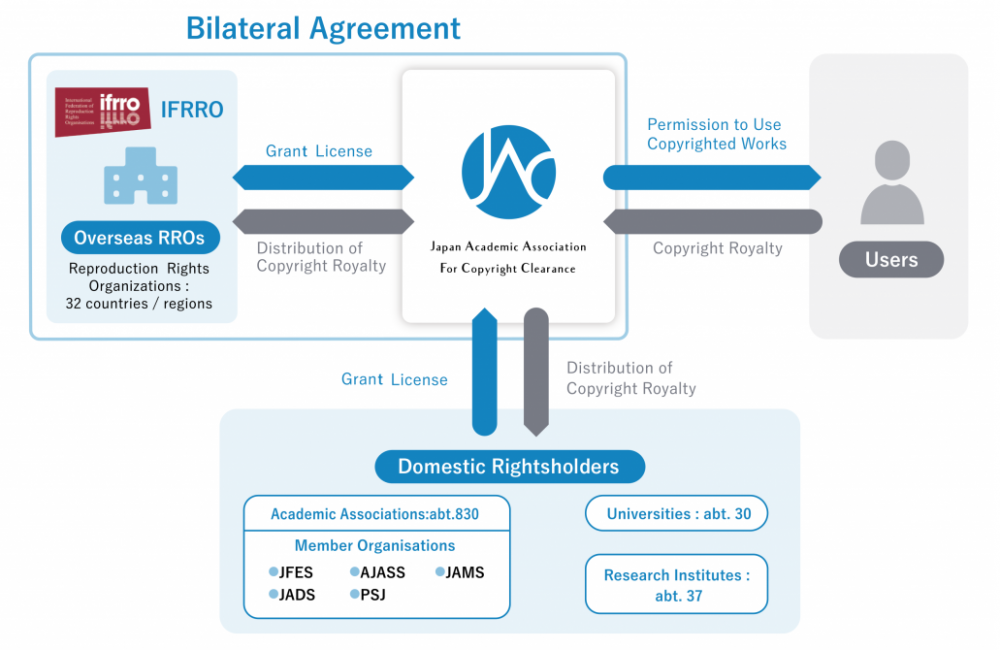 Top Message
Our continuous contribution to the sustainment and advancement of academic societies in an evolving world
Since its establishment formerly as "The Copyright Council of the Academic Societies" in 1989, Japan Academic Association For Copyright Clearance (JAC) has built the circulative licensing system that protects the copyrights of our member associations who are academic associations and also provides simple ways for users to obtain permissions for the use of copyrighted works.
With the major growth of information and communication technology over the past 30 years, we have been encouraged to take initiative to introduce a paperless environment and take advantage of the cloud instead of using printed paper materials as means of sharing information these days.
Considering digital data is not "things", people tend to have insufficient awareness about the use of copyrighted works because they can use content so easily, and it may be said that the risk of copyright infringement is relatively high compared to other intellectual property rights infringements.
If copyright infringement should occur, not only would cause economic loss, there is also a danger that their social reputation and credibility could be seriously damaged with the rapid spread of information in the modern age, which makes compliance all the more important to organizations.
We offer simplified services that help you to meet compliance requirements of copyrights and also contribute to the sustainable development for rightsholders of academic associations as well as academic societies.
June, 2019
Japan Academic Association For Copyright Clearance (JAC)
President
Yousuke Seyama
Organizational Structure
JAC is incorporated association which is organized by 5 member associations with Board of Directors. We currently have 5 member Organizations – The Japan Federation of Engineering Societies (JFES), Japan Association for Dental Science (JADS), Association of Japanese Agricultural Scientific Societies (AJASS), The Pharmaceutical Society of Japan (PSJ) and The Japan Association of Medical Sciences (JAMS).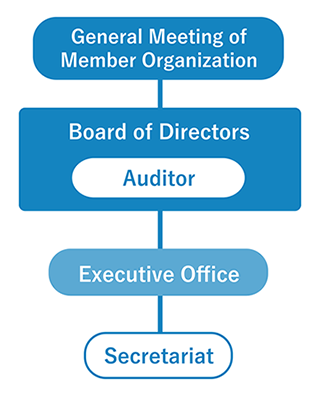 Officer's Bio
President


Dr. Yousuke Seyama, M.D., Ph.D.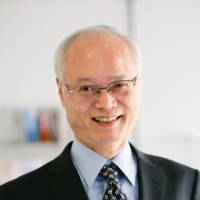 Dr. Yousuke Seyama, a professor emeritus at the University of Tokyo and a professor emeritus at Ochanomizu University, was named the President of Japan Academic Copyright Clearance (JAC) on June 2017.

After graduation from the University of Tokyo's School of Medicine in 1965, Dr. Seyama had started to serve as a professor at the University of Tokyo's School of Medicine, Ochanomizu University, and Sugiyama Jyogakuen University. Besides such teaching position, he also had served as a visiting professor at National Institution for Academic Degrees and Quality Enhancement of Higher Education (NIAD-QE) from 2004 to 2012.
In 2010, Dr. Seyama was appointed the President of Japan Medical Abstracts Society (JAMAS) which offering information of the medical studies in Japan through the online bibliographic database, "Ichu-shi Web."

Besides concurrently serving as a visiting professor at Tokyo Healthcare University from 2013, Dr. Seyama served as the Chairman of Japan Reproduction Rights Center (JRRC), the Director of International Medical Information Center, and the Chairman of Medical Terminology Management Committee of the Japanese Association of Medical Science.

From June 2017, Dr. Seyama took office as the Representative Director of JAC and has reached today.

History
1989
Founded as Academic Association Copyright Council.
2002
Registered as a management business operator under the Law on Management Business of Copyright and Neighboring rights at Agency for Cultural Affairs.Became an associate RRO Member of IFRRO.
2003
Reorganized into limited liability intermediary corporation, Japan Academic Association for Copyright Clearance.
2008
Became an official RRO Member of IFRRO.
2009
Renamed to general incorporated association, Japan Academic Association for Copyright Clearance with the reform of law by Government of Japan.